SamplePro FlexFilm Sample Bags
Our FlexFilm sample bags are currently being phased out of production, and so stock may be limited of certain sizes. Please contact SKC Limited for availability.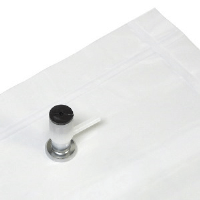 SamplePro Flexfilm Bags are designed for single use only and should not be used at temperatures above 60°C (140°F). They are constructed of 3-mil SKC proprietary material, ideally suited for collecting air samples of VOCs. FlexFilm features lower total VOC background than Tedlar but shows the same sample stability for VOCs as seen with Tedlar. The range is a cost effective alternative to Tedlar for performance with minimal adsorption.
Good stability for a wide variety of VOCs and CO, CO2, methane and SF6.
Stocked in a variety of sizes, and available with these fittings:
| | | |
| --- | --- | --- |
| | | |
| Single Polypropylene | | Dual Stainless Steel |
Single combined polypropylene hose/valve and septum for economy and lightweight
Dual stainless steel for sampling flexibility
Also available as Breath-gas Analysis (exhaled air fitting) Bags for storing volatile sulphur compounds (VSCs), which are important biomarkers in human breath, for up to 24 hours.