Tedlar Sample Bags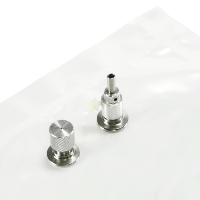 Tough, flexible Tedlar film features tensile strength and toughness for many applications. Tedlar film is rated for continuous use from -72° to 107°C (-98° to 224°F) when used with the appropriately rated fitting. This wide range of operation allows for use in very cold or very hot environments including stacks, vents, and flues.
SKC Tedlar film has a melting point of 190°C (374°F). However, the bag fitting dictates the maximum operating temperature of the sample bag:
Tedlar bags with stainless steel fittings have a maximum operating temperature of 107°C (224°F) based on the temperature tolerances of this fitting's O-rings.
Tedlar bags with polypropylene fittings have a maximum operating temperature of 93°C (199°F) based on the temperature tolerance of the fitting material. Strain on the fitting should be avoided at the maximum temperature.
Stocked in a variety of sizes, and available with these fittings:
| | | |
| --- | --- | --- |
| | | |
| Single Polypropylene | | Dual Stainless Steel |
Single combined polypropylene hose/valve and septum for economy and lightweight
Dual stainless steel for sampling flexibility
Also available as Breath-gas Analysis (exhaled air fitting) Bags for storing volatile sulphur compounds (VSCs), which are important biomarkers in human breath, for up to 24 hours.