Latest News
---
SKC Practical Training Course 2020
Dates and venues for our popular Practical Training Course in Air Sampling are now available.
---
New Step by Step Guide
Now available, the updated Step by Step Guide replaces the three individual Step by Step Guides, providing a useful introductory guide to the basics of air sampling.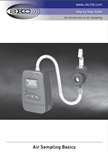 ---
SKC Inc acquire Colormetric Laboratories Inc.
On July 15, 2019, SKC Inc. acquired Colormetric Laboratories, Inc. (CLI). SKC is excited to add CLI products to our highly respected, longstanding sampling solutions that help you maintain the health and safety of workers. SKC looks forward to continuing to provide the same great CLI products with excellent customer and technical support.
---
EH40 3rd Edition
Our Hazard Search has been updated to include the revisions of EH40 3rd Edition, which came into force on 21st August 2018.
---
BioLite+ Pump
The BioLite Pump has been discontinued, to be replaced by the BioLite+ Pump. Compared to the BioLite, the BioLite+
has improved performance with a wider flow range up to 62 L/min
can handle higher back pressures
has the capabilty to run two BioSamplers simultaneously
is quieter
---
2018-2019 SKC Catalogue
The 2018-2019 SKC Catalogue is now available online to view.
---