Latest News
---
Complimentary Breakfast Meet and Greet
We are holding a meet and greet breakfast at the Park Avenue Hotel, Belfast BT4 1PB on Wednesday morning, June 26th 2019. A complimentary light breakfast will be available from 8am until 11.30am and there is ample free parking. We would be delighted to meet you and your colleagues, answer any of your questions and demonstrate a variety of our products.
---
Our Air Sampling Training Course Dates for 2019 Announced
Training Course Information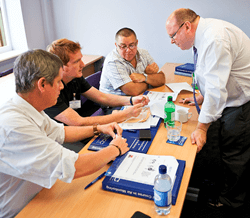 ---
EH40 3rd Edition
Our Hazard Search has been updated to include the revisions of EH40 3rd Edition, which came into force on 21st August 2018.
---
BioLite+ Pump
The BioLite Pump has been discontinued, to be replaced by the BioLite+ Pump. Compared to the BioLite, the BioLite+
has improved performance with a wider flow range up to 62 L/min
can handle higher back pressures
has the capabilty to run two BioSamplers simultaneously
is quieter
---
2018-2019 SKC Catalogue
The 2018-2019 SKC Catalogue is now available online to view.
---